Tagungsband mit Martha Nussbaum erschienen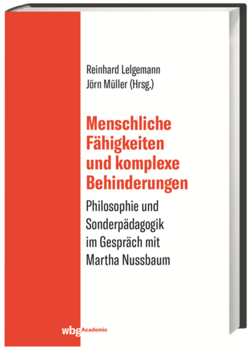 Martha Nussbaum: "Aging, Disability, Stigma, and Disgust"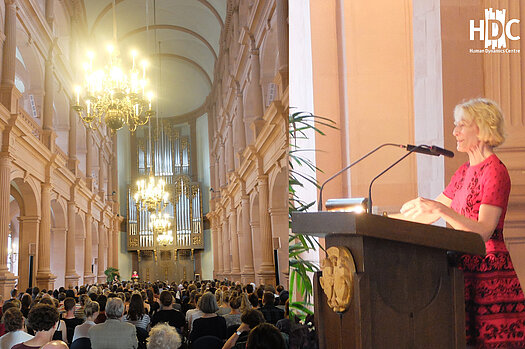 "Menschliche Fähigkeiten und komplexe Behinderungen. Philosophie und Sonderpädagogik im Gespräch mit Martha Nussbaum" - so der Titel einer interdisziplinären und internationalen Tagung vom 28.-29.6.2017 an der Julius-Maximilians-Universität in Würzburg, organisiert von Reinhard Lelgemann und Jörn Müller mit der Unterstützung des Human Dynamics Centre der Fakultät für Humanwissenschaften.
Ziel der Tagung war der intensive Austausch zwischen Sonderpädagogik und Philosophie über die normativen Grundlagen des Umgangs mit schwerstbehinderten Menschen.
Im Zentrum der Diskussion stand dabei der Fähigkeitenansatz der amerikanischen Philosophin Martha Nussbaum, die 2016 mit dem renommierten Kyoto-Preis ausgezeichnet wurde.
Über folgenden Link hören Sie den Abendvortrag von Martha Nussbaum mit dem Titel "Aging, Disability, Stigma, and Disgust", gehalten am 28. Juni 2017 im Festsaal der Neubaukirche in Würzburg.
Wir freuen uns, Herrn Doron Kiesel, Professor für interkulturelle und internationale Pädagogik und soziale Arbeit, als HDC-Fellow begrüßen zu dürfen! In Vorträgen oder Seminaren: Wir sind gespannt auf den Austausch und die Impulse zu den Themen "Diversitätsmanagement, Bildung und Religion". Weitere Informationen im einBLICK-Artikel.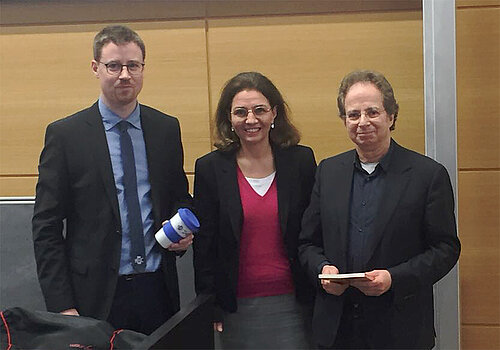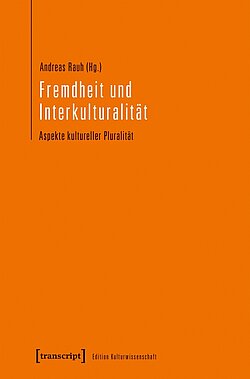 Welche Bedeutung hat das Fremde für die eigene Kultur und wie lässt es sich übersetzen? Wo liegen Möglichkeiten und Grenzen eines erkennenden Zugangs und auf welchen kulturellen Deutungsmustern basieren Heterogenität und Homogenität? Welche Rolle hat die eigene Normalitätserwartung und was wäre eine interkulturelle Kompetenz?
Der Band ist beim transcript-Verlag erschienen und versammelt Beiträge aus Philosophiegeschichte, Bildungsethnologie, Erziehungswissenschaft, Entwicklungspsychologie und -soziologie, die Fremdheit und Interkulturalität als grundlegende Dimensionen gegenwärtiger Kulturerfahrung analysieren.
154 Seiten, mit Farbabbildungen, 14,8 x 22,5 cm, Broschur, Preis: 24,99 € (ebook: 21,99 €)
Artikel im einBLICK.
Medienecho:
»Die Lektüre des Buchs [lohnt sich], denn die Beiträge überraschen zum Teil durch ihre ganz unterschiedlichen Herangehensweisen und Aspekte dieses breiten Feldes.«
Barbara Schellhammer, polylog, 38 (2017)
»Die Beiträge dieses Bandes analysieren die Aufgaben, die sich aus dem Aufeinandertreffen verschiedener Kulturen ergeben, aus der Perspektive verschiedener Wissenschaftsdisziplinen und sind daher geeignet, den Blick auf Probleme und Lösungsansätze im Kontext kultureller Differenzen zu schärfen.«
Wolfgang Rechtien, www.socialnet.de, 06.11.2017