Battle of Messages – Herausforderungen von Mediaagenturen in Zeiten von Smartphones, Big Data & Co.
02/03/2019
OMG-Geschäftsführer und -Sprecher Klaus-Peter Schulz spricht im Master-Seminar "MK on the Job" über Herausforderungen und Chancen der Mediaagenturen in Zeiten der Digitalisierung und ruft Absolventen zum Berufseinstieg in der Agenturlandschaft auf.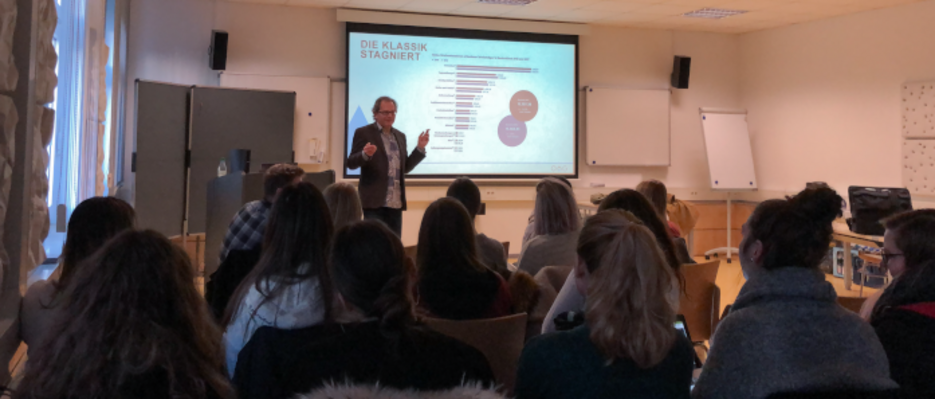 Wir stehen morgens auf, gehen ins Bad und unter die Dusche. Wir putzen unsere Zähne, setzen einen Kaffee auf und essen das morgentliche Müsli. Dabei gibt es kein Entkommen, wir können ihnen nicht entgehen – den Marken. Ob bei der Zahnpasta, dem Frühstückssaft oder dem Shampoo, wir sind tagtäglich von Marken umgeben und stehen immer wieder vor Kaufentscheidungen. In der immer größer werdenden Informationsflut müssen Marken sich behaupten, um ihre Botschaften an den Konsumenten zu bringen und in den Köpfen der Menschen als relevant wahrgenommen zu werden – genau das ist Aufgabe der Mediaagenturen: Wo können die Konsumenten erreicht werden? Welche Inhalte passen zur Marke? Wie kann die Zielgruppe für die Marke begeistert werden?
Eine Antwort auf diese und andere Fragen gab Klaus-Peter Schulz, Geschäftsführer und Sprecher der OMG e.V. – Organisation der Mediaagenturen, in seinem Gastvortrag im Rahmen des Master-Seminars "MK on the Job". Der Verband vereint 22 Agenturen unter sich, von Netzwerkagenturen wie PUBLICIS bis hin zu inhabergeführten Agenturen wie pilot, welche gemeinsam Kundengelder in einer Größenordnung von 22 Mrd. € betreuen. Schulz selbst hat Politikwissenschaft studiert, nebenbei bei einem Rocksender aufgelegt und moderiert. Eingestiegen in den Beruf ist er damals als Trainee bei der großen Werbeagentur Lintas. Von da an war er mal auf Kunden-, mal auf Agenturseite tätig, bis er 2015 zum Geschäftsführer und Sprecher der OMG berufen wurde. Dabei begeistert ihn vor allem die Verknüpfung von Medien auf der einen und Marken auf der anderen Seite. Doch so wichtig die Mediaagenturen für ihre Kunden sind, so groß sind auch die Herausforderungen, welchen sie heutzutage entgegentreten müssen.
Fast Fragmentation und Smart Empowerment
Das mediale Angebot fragmentiert sich immer mehr. Den Deutschen stehen über 1.200 Fernsehsender, 415 Radioprogramme und 3,7 Mio. mobile Apps zur Verfügung. Die Medien liefern sich tagtäglich eine "Battle of Messages". Mediaagenturen stehen damit zuallererst vor der Aufgabe, den Verbraucher in dieser Informationsflut überhaupt zu erreichen. Hinzu kommt die veränderte Mediennutzung der Konsumenten – zwei Drittel davon entfällt auf Bildschirme, egal ob am Smartphone oder auf der Kinoleinwand. Und damit müssen sich auch die Werbeformen ändern, der Trend geht hin zu Video Ads, digitaler Außenwerbung und Native Advertising. Auch die Abgrenzung der Gattungen voneinander wird immer komplexer. Kann man in Zeiten von Netflix & Co. noch Fernsehen und Online klar voneinander unterscheiden? Herr Schulz spricht von einem Wandel von der Gattung zum Content. Es geht um bedeutungsvolle Inhalte, die den Konsumenten ansprechen.
Arbeiten in der Agentur heißt Arbeiten auf der Marke
Doch nicht nur auf Konsumenten- sondern auch auf Kundenseite gibt es immer wieder neue Herausforderungen. Während vor wenigen Jahren noch Aufmerksamkeit und Bekanntheit die primären Werbeziele der Marken waren, zählt heute vor allem nur noch eines – der Absatz und damit der ROI (Return on Investment). So lautet passenderweise der Claim der OMG "Le R.O.I. c'est nous" (Wir sind der R.O.I.). Um diesen zu generieren müssen die Mediaagenturen die Marke, die Zielgruppe und deren Mediennutzung verstehen, um letztendlich passenden Content für die Marke zu entwickeln und diesen wiederum an der richtigen Stelle zu platzieren. Mitarbeiter einer Mediaagentur haben diese "Partitur", wie Musik-Fan Schulz es nennt, zu kennen und umzusetzen.
"Server an – Hirn aus" funktioniert nicht
Schulz spricht auch über Big Data und künstliche Intelligenz und wie diese die Arbeit in Mediaagenturen verändern. Doch es reicht nicht und wird in naher Zukunft auch nicht reichen, alle Aufgaben Maschinen zu überlassen. Diese verfügen weder über Empathie und Leidenschaft, noch über Kreativität und Humor – ganz entscheidende Aspekte in der Werbung – und werden den Menschen mit seinem "korrektiven Algorithmus des Bauchgefühls" nicht ersetzen können.
Kommt in die Agenturen!
Wie auch sein Kollege und guter Freund Dr. Ralf Nöcker im Gastvortrag vergangene Woche, ruft Schulz die angehenden Absolventen dazu auf, sich nicht von dem oft geringen Einstiegsgehalt in Agenturen abschrecken zu lassen. Sie bieten eine einzigartige Möglichkeit, bereits in jungen Jahren einen breiten Berufseinstieg zu schaffen, mit der Vielfalt an Projekten den eigenen Horizont zu erweitern und damit wertvolle Erkenntnisse für das spätere Berufsleben zu gewinnen. Während man im Unternehmen jahrelang mit der gleichen Marke zu tun hat, bietet das Agenturleben reichlich Abwechslung, so Schulz.
Von Ninon Lauber (Master Medienkommunikation)