Berufsfeld Public Relations – Neue Anforderungen durch digitale Medien
01/14/2019
Michael Schmitt gab im Rahmen des Seminars "MK on the Job" einen Einblick in das Berufsfeld Public Relations. Als Inhaber der PR-Agentur schmitt kommuniziert. berichtete er den Masterstudierenden von möglichen Berufseinstiegen, aktuellen Trends der Branche und Herausforderungen in der Krisenkommunikation.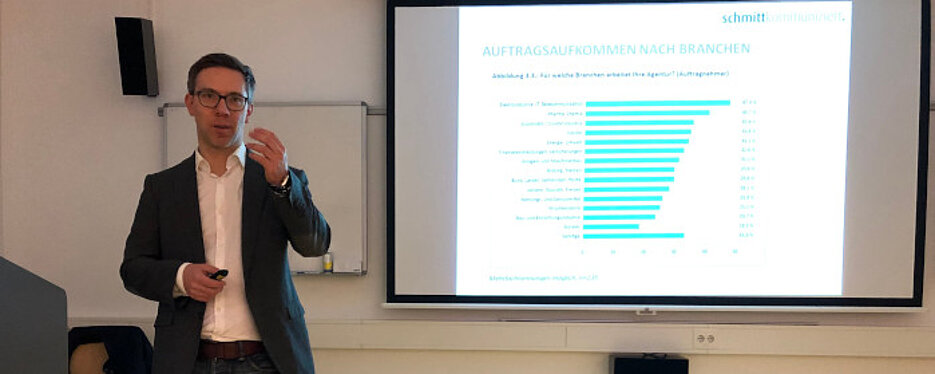 Foto von Leona Hutchinson
Das wichtigste Ziel für einen PR-Manager sei, das Image des Unternehmens sowohl nach außen als auch nach innen gut darzustellen und die Bekanntheit in den Medien und der Gesellschaft zu steigern, erklärt Michael Schmitt. Den großen Boom hatte Public Relations in den 90er Jahren, als Unternehmen neue Wege der Unternehmenskommunikation entdeckten. Während damals die Presse und klassische Medien genutzt wurden, bieten heute moderne Medienkanäle mehr Chancen zur strategischen Kommunikation.
Mobile first and mobile only
Die digitale Vernetzung führt aber auch zu neuen Herausforderungen für das Berufsfeld Public Relations. So reicht es heutzutage nicht mehr aus nur journalistische Kenntnisse zu haben, sondern es bedarf auch Wissen über mobile Kommunikation, Soziale Netzwerke sowie Content Marketing und Management. Schmitt weist außerdem darauf hin, dass soziale Fähigkeiten wie Empathie und Kommunikation unerlässlich für diesen Beruf sind.
Wege in die PR
Es führt kein klassischer Weg zum Beruf des PR-Managers. Die meisten gelangen über ein Studium der Kommunikationswissenschaft, BWL oder Geisteswissenschaft dorthin. Michael Schmitt betont aber, dass beispielsweise auch Biologen PR-Berater werden können, weil sie viele Fachkenntnisse in einem bestimmten Themengebiet besitzen. Auslandsaufenthalte, Praktika oder Trainees können den Einstieg in die PR-Branche erleichtern.
"Jedes Unternehmen braucht einen Krisenplan in der Schublade"
Schmitt erklärt, dass man bereits im Vorfeld Strategien entwickeln muss, um auf mögliche Krisen schnell zu reagieren und diese bewältigen zu können. Auch die Macht der Sozialen Medien sei hierbei nicht zu unterschätzen, da dort Krisen entstehen oder verstärkt werden können. Aufgrund der steigenden Relevanz des Themas haben sich manche PR-Berater sogar auf diesen Bereich spezialisiert.
Aktuelle Zahlen zu Gehältern, Arbeitsbedingungen und Branchen zeigen die Erhebungen der Deutschen Public Relations Gesellschaft e.V., in der Michael Schmitt nicht nur Mitglied des Landesvorstands Bayern ist, sondern auch die DPRG Regionalgruppe Würzburg 2017 gegründet hat. Verbände wie diese bieten jedem, der sich für Public Relations interessiert, die Möglichkeit neue Kontakte zu knüpfen.
Von Stefanie Bernhardt (Master Medienkommunikation)