"Deutschland fehlt es an einer Kultur des Scheiterns"
01/19/2017
Bei einem Vortrag zum Thema "Startups als Arbeitgeber" am 12. Januar hat Arno Dirlam über Möglichkeiten der Unternehmensgründung sowie Vor- und Nachteile der Beschäftigung in einem Startup gesprochen. Der Gastvortrag fand im Rahmen des Seminars "MK on the Job" im Masterstudiengang Medienkommunikation statt.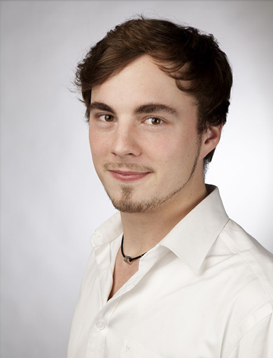 Arno Dirlam stand nach seinem Vortrag den Studierenden im Master-Seminar "MK on the Job" Rede und Antwort zu Startups.
Dirlam selbst stieg im Jahr 2011, direkt im Anschluss an sein Masterstudium der Wirtschaftsinformatik, als Mitgründer von "tame" in die Startup-Szene ein. Darüber hinaus baut er aktuell, gemeinsam mit zwei Gründern aus dem Silicon Valley, das Unternehmen "vira" auf. Den Studierenden berichtete er aus erster Hand von seinen Erfahrungen.
Besondere Arbeitsbedingungen in Startups
Zu Beginn des Vortrags ging Dirlam kurz auf Formen der Unternehmensgründung sowie damit verbundene Finanzierungsmöglichkeiten ein. Anschließend lenkte er den Fokus auf die Beschäftigungsfelder innerhalb eines Startups. "Grundsätzlich erwarten Angestellte in Startups ähnliche Aufgaben wie in herkömmlichen Unternehmen", erläuterte der Referent. Unterschiede lägen eher in der Verteilung sowie der Ausführung der Tätigkeiten. Beispielsweise gebe es innerhalb eines Startups in der Regel keine vorgegebenen Arbeitsprozesse. Dadurch hätten Mitarbeiter zahlreiche Möglichkeiten, ihre eigenen Ideen einzubringen und umzusetzen. Aufgrund der vergleichsweise kleinen Mitarbeiterzahl übernehme eine Person zudem meist mehrere Aufgabenbereiche, was mit einer entsprechenden Verantwortung sowie einer steilen Lernkurve einhergehe. Die niedrige Zahl der Angestellten schaffe außerdem Raum für einen starken Teamgeist und flache Hierarchien. "Der eigene Chef sitzt in vielen Fällen am Schreibtisch nebenan. Wenn man ein Problem hat, spricht man einfach kurz mit ihm", schilderte Dirlam. Den Vorteilen von Startups stünden jedoch auch Schattenseiten gegenüber, die jedem potentiellen Gründer und Mitarbeiter bewusst sein sollten. Demnach sei vor allem die Überlagerung von Arbeitsleben und Privatsphäre nicht zu unterschätzen.
Deutschland als attraktives Gründungsland?
In einer anschließenden Diskussion mit den Masterstudierenden kam unter anderem die Frage auf, ob Deutschland als attraktives Gründungsland zu sehen sei. Dirlam kritisierte zunächst, dass es hierzulande an einer Kultur des Scheiterns fehle – gescheiterte Gründer würden eher kritisch beäugt als für Ihren Mut geschätzt. Dies führe unter anderem dazu, dass insbesondere Absolventen eine sichere Festanstellung gegenüber der ungewissen Zukunft einer Gründung bevorzugen würden. "Und dann wundern sich alle, warum sämtliche Innovationen aus den USA kommen", brachte es der Referent auf den Punkt. Dabei gebe es in Deutschland zahlreiche Möglichkeiten der staatlichen Unterstützung. So könnten vielversprechende Konzepte mit attraktiven finanziellen Zuschüssen, erfahrenen Mentoren und eigenen Büroräumen gefördert werden. Mehr potentielle Gründer sollten sich trauen diesen Schritt zu gehen und ein mögliches Scheitern nicht als Niederlage, sondern als wertvolle Erfahrung betrachten, so Dirlams abschließender Appell an die Studierenden.
Das Seminar "MK on the Job" eröffnet verschiedene Perspektiven auf den Berufseinstieg mit einem Abschluss in Medienkommunikation. Es richtet sich dabei an Studierende fortgeschrittener Master-Semester und wird im laufenden Semester von Benedikt Spangardt (Arbeitsbereich Medien- und Wirtschaftskommunikation) geleitet.