Genderforum JMU goes Fakultät
07/30/2019
Am 10. Juli 2019 fand erstmals ein Tag der Genderforschung an der Universität Würzburg statt. In Kooperation mit dem Human Dynamics Centre und dem Arbeitskreis Gender des Instituts für Politikwissenschaft und Soziologie begann der Auftakt des Gendertags mit der Fakultät für Humanwissenschaften. Im Fokus des Genderforums stand der gemeinsame Austausch zwischen Dozierenden, Studierenden und Interessenten unterschiedlicher humanwissenschaftlicher Teilbereiche und Disziplinen.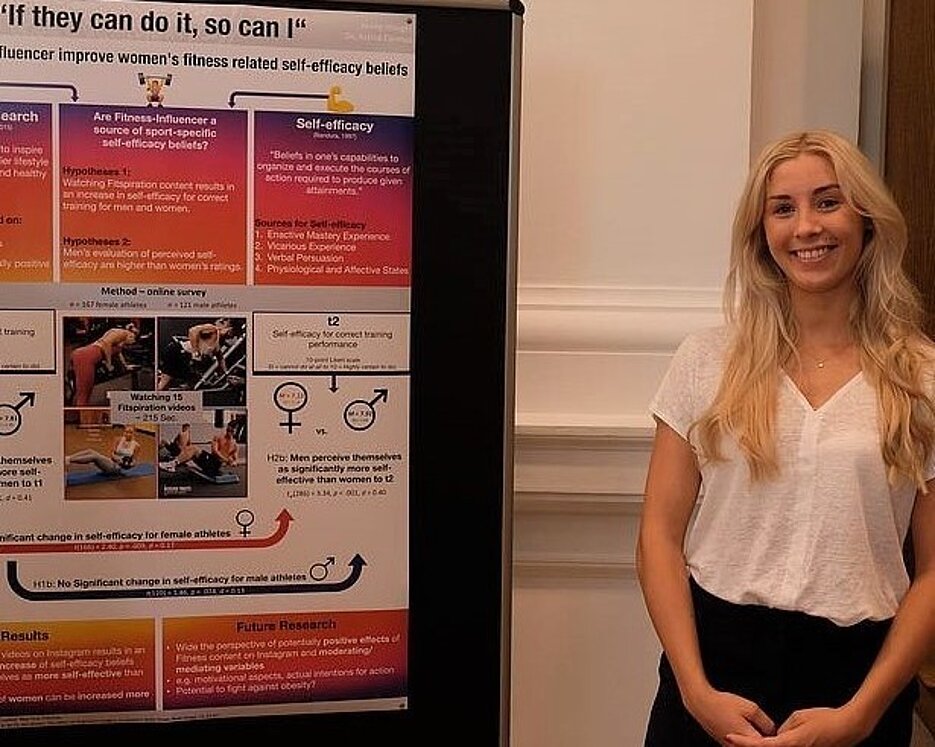 Die Keynote zum Thema "Wissenschaft und Geschlecht" von Prof. Dr. Christiane Gross vom Institut für Politikwissenschaft und Soziologie führte in die Thematik ein. Es folgte eine Posterpräsentation, von der Studierendenschaft und dem akademischen Mittelbau, aus den Bereichen der Politik, Soziologie und Medienkommunikation. Die Medienkommunikation wurde durch die studentischen Poster von Anna-Maria Törke und Jenny Heeger repräsentiert.
Alexa or Alexander? "Gender doesn't matter in the evaluation of Smartspeakers" von Anna-Maria Törke (Medienkommunikation, 6. Smester), Dr. Astrid Carolus (Arbeitsbereich Medienpsychologie), Prof. Dr. Carolin Wienrich (Juniorprofessur für Mensch-Technik-Systeme)
"If they can do it, so can I" How Fitness-Influencer improve women's fitness related self-efficacy beliefs von Jenny Heeger (Medienkommunikation, 4. Semester) und Dr. Astrid Carolus (Arbeitsbereich Medienpsychologie)
Der Beitrag von Jenny Heeger und Dr. Astrid Carolus wurde als bestes Poster durch die Teilnehmer*innen gewählt. Im Fokus dieser Arbeit stand die unterschiedliche Wirksamkeit von Fitness Influencern auf die Steigerung sportspezifischer Selbstwirksamkeit bei sportlich aktiven Frauen und Männern. Diese konnte bei weiblichen Probanden durch die Rezeption von Fitnessbeiträgen auf Instagram kurzfristig signifikant gesteigert werden. Die beiden erhielten einen vom Genderforum gestifteten Gutschein im Wert von 100 € für die Buchhandlung Neuer Weg in der Sanderstraße.
Nachfolgend wurde eine medienpsychologische Perspektive auf Sexualität in den Medien durch den Vortrag von Dr. Astrid Carolus, Prof. Dr. Frank Schwab und Maximilian von Andrian-Werburg vom Institut Mensch-Computer-Medien gegeben. Auf Basis empirischer Daten stellten sie verschiedene Aspekte im Zusammenhang mit dem Konsum von Pornographie vor. Diese wissenschaftliche Perspektive vertieften Frau Carolus, Herr Schwab und Herr Andrian-Werburg in der nachfolgenden Podiumsdiskussion mit drei weiteren Referent*innen aus der Sozialpädagogik und vom FemFest Würzburg.