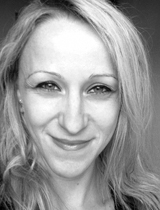 Elisa Holz studierte von 2005 bis 2010 Psychologie an der Paris-Lodron-Universität Salzburg. Seit 2010 ist sie Doktorandin am Lehrstuhl für Psychologie I und arbeitet in der Arbeitsgruppe "Brain-computer interfaces (BCI)" bei Prof. Dr. Andrea Kübler. Hier erforscht sie, inwieweit BCIs von Menschen mit neurodegenerativen Erkrankungen als Hilfsmittel akzeptiert werden, wie ein BCI zuhause beim Patienten implementiert werden kann und welchen Einfluss ein BCI auf die Lebensqualität eines Menschen nehmen kann. Ab September 2014 erforscht sie im Rahmen des HDC-Stipendiums die psychosozialen Einflussmöglichkeiten eines BCIs auf das Leben von Menschen im locked-in state.
Forschungsschwerpunkte:
Evaluation of BCIs as assistive technology, independent BCI home-use
Veröffentlichungen (Auswahl):
Holz, E.M., Botrel, L., & Kübler, A. (in press). Independent home use of Brain Painting improves quality of life of two artists in the locked-in state diagnosed with amyotrophic lateral sclerosis. Brain-Computer Interfaces.
Holz, E.M., Botrel, L., Kaufmann, T., & Kübler, A. (2015). Long-term independent brain-computer interface home use improves quality of life of a patient in the locked-in state: A case study. Archives of Physical Medicine and Rehabilitation, 96, S.16-26.